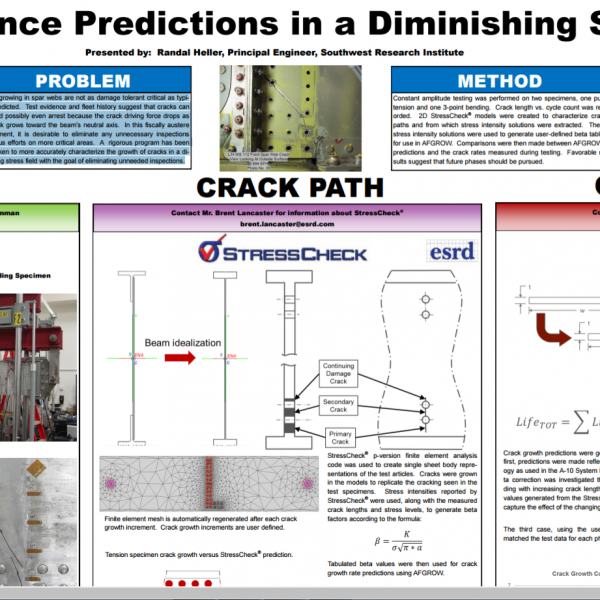 Damage Tolerance Predictions in a Diminishing Stress Field
Abstract: Cracks growing in spar webs are not as damage tolerant critical as typically predicted. Test evidence and fleet history suggest that cracks can slow and possibly even arrest because the crack driving force drops as the crack grows toward the beam's neutral axis. In this fiscally austere environment, it is desirable to eliminate any unnecessary inspections and focus efforts on more critical areas. A rigorous program has been undertaken to more accurately characterize the growth of cracks in a diminishing stress field with the goal of eliminating unneeded inspections.
Looking for Resources?
Recent News & Events
Quick Links
Testimonials
"A screening of existent commercial and non-commercial tools was carried out in respect to their fracture mechanics capabilities, their design abilities, implementation as well as their complexity. Although, there are many software possibilities, only those within the reach of the author were evaluated. This resulted in the selection of the commercial tool StressCheck®. The assessment of crack propagation on compact tension and two stringer specimens governed by the Paris and Forman regimes was satisfactory compared with experimental results using the material data from simple standard specimens."