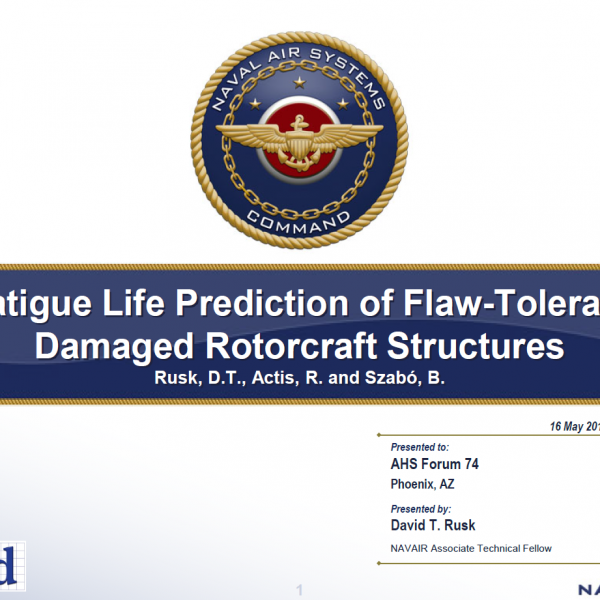 Fatigue Life Prediction of Flaw-Tolerant Damaged Rotorcraft Structures
Abstract: Paper presented at the American Helicopter Society Annual Forum 74 in Phoenix, Arizona May 14-17, 2018: Fatigue Life Prediction of Flaw-Tolerant Damages Rotorcraft Structures. The presentation and paper report the work done by ESRD and NAVAIR under a SBIR program to develop an analytical approach to predicting the remaining useful fatigue life of metallic components with surface flaws.
Categories: Fracture Mechanics Module, Linear Elasticity Solver, MeshSim Advanced Module, Non-Linear Solver, Residual Stress Modules, StressCheck Core, StressCheck Professional.
Tags: Damage Tolerance, Detailed Stress, Fatigue, Numerical Simulation, Residual Stress, Theory.
Looking for Resources?
Recent News & Events
Quick Links
Testimonials
"An advanced modeling and analysis tool for complex composite structures is generating benefits across the aerospace industrial base. StressCheck® [Composites] is widely viewed as the next-generation composite joint strength tool."

Air Force Research Laboratory (AFRL)